| truthaholics
It would be seen as a serious setback if Westgate mall plotter Ahmed Adbi Godane was the intended prize in Barawe.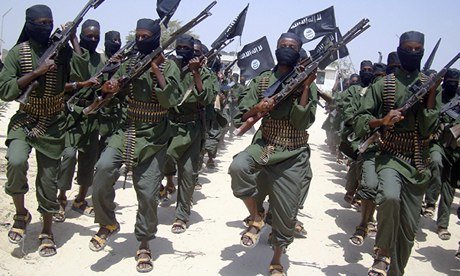 Al-Shabaab fighters march on the outskirts of
Mogadishu, Somalia
. Their leader Ahmed Abdi Godane may have been the target of a US forces failed raid. Photograph: Mohamed Sheikh Nor/AP
Official US reluctance to identify the target of the failed Somali raid by Seal Team Six special forces commandos may stem from a wish not to further bolster the reputation of al-Shabaab's shadowy leader, Ahmed Abdi Godane, also known as Mukhtar Abu Zubeyr.
The Islamist militia's hardline emir emerged as Africa's most wanted man after the 21 September Westgate mall attack in Nairobi that killed least 67 people, for which he claimed responsibility. His capture would have…
View original post 817 more words